When searching for off-campus housing, college students look for details that identify with their needs. Many students are initially drawn to off-campus housing due to pricing and convenience. However, there are also other considerations that should be made. They also value safety as well as a laundry-list of modern amenities. It quickly becomes it clear that there are many needs that property developers should be cognizant of when designing a new property. Effective signage will help convey the qualities of the property that matter to students, including the lifestyle of the building, the clarity of the location, and the presentation of the complex's amenities.
LOOKS MATTER
Communicating a cohesive brand image to incoming residents is essential for creating a distinction from your competition. Obtaining a signage partner that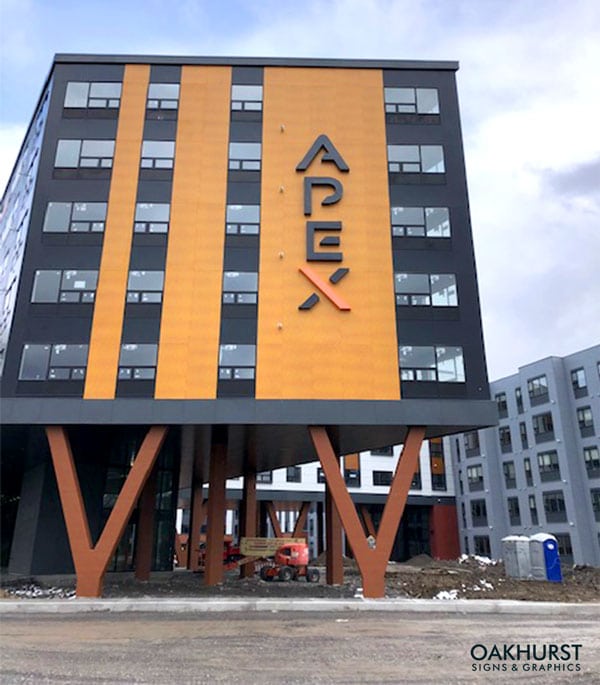 understands how to design and create a cohesive sign package tailored to this younger demographic will make your complex stand out to prospective college-age tenants. The immersive qualities of student housing can be displayed throughout several touchpoints in a tenant's experience, from unique, on-trend monument signage to corresponding matching wayfinding signage.
Another key to designing a sign system for student housing is durability. The level of turnover traffic is very high as student housing caters to lower-tenure residents than other markets, with occupants rotating in and out each semester. Signage in student housing is more susceptible to being damaged by students, who are more active in using amenities, frequently moving furniture in and out, or even roughhousing in hallways. By designing your signage to specifically use materials such as Chemweld or Photopolymer as well as added vandal resistance is a great precaution against future expenses for replacements.
EASY NAVIGATION
Another vital aspect of student housing signage is the clarity of communication. Designing a new complex to be easy to navigate can prevent potential safety hazards. A confusing layout with dimly-lit hallways, unclear wayfinding, lack of ample ADA-compliant signage, or easy to locate emergency exits can spark concern to prospective tenants.
The goal of clear wayfinding is to ensure safety and security to tenants. Making logical decisions about the design of parking lots, outdoor lighting, ample and clear signage indicating hallways and entrances will help tenants feel welcome in their home. The easier it is to find a destination, the more confident and assured residents and visitors will feel in their homes.
AMENITIES
What is unique about student housing is the use of amenities. Amenities like study breakout rooms, computer labs, lounges, pools, and dog parks are great ways to attract new renters. Branding in student housing is more immersive. For example, large-format printed graphic vinyls that cover the entire back wall of a fitness center or lounge. The vinyls are often designed with lifestyle photography and key graphical elements from the property 's brand. This "immersion" often follows the mood board and theme that is also developed for the property website and branded collateral used by the leasing team. The amenities themselves enhance the environment of the complex and by ensuring your signage partner celebrates these amenities you will have prospective tenants actively inhabiting the spaces.
Signage solutions for student housing complexes may not be the first thing on a developer's mind. For our team at Oakhurst Signs and Graphics, it is a priority. Our highly-skilled team utilizes modern technology and efficient workflows to ensure we achieve your goals on-time and on-budget.  We will take care of all of your design and branding needs, as well as value-engineer your signage to ensure you obtain quality custom signage that exceeds your expectations.
Signage is a key part of today's competitive and dynamic environment, and we are proud to be our partners' go-to sign company. Oakhurst Signs specializes in the design and fabrication of new signage, manufacturing custom wayfinding signage, rebranding sign systems, refacing existing monuments, and more. See our  award-winning portfolio of work and be sure to  contact us  and we will get to work on making your students feel at home.