Commercial Real Estate Signage Experts
Oakhurst Signs has assembled a team of highly experienced industry experts who are committed to being your trustworthy and reliable signage partners.  We foster a culture of caring for our employees, clients, vendors, and partners while continuing to be a leader in innovative processes and technology.  As a national sign provider, our capabilities extend throughout the US.
Combine that level of service with our state of the art in-house manufacturing capabilities and it's clear why apartment complexes, property management companies, builders, developers, and condo owners trust Oakhurst Signs with every signage job, big and small.
New construction and portfolio rebranding multifamily projects are no small task. We offer personalized, expert support from beginning to end. Throughout the process, an Oakhurst Signs project manager will communicate with you and ensure that our experienced team of account managers, designers, and production coordinators are working together to meet the strict time and quality standards we set for ourselves. The materials we use, the experts we hire, and the commitment we put into every project all come together to create an unbeatable product and experience for our clients from concept to installation – and that's what made us become a trusted national sign company.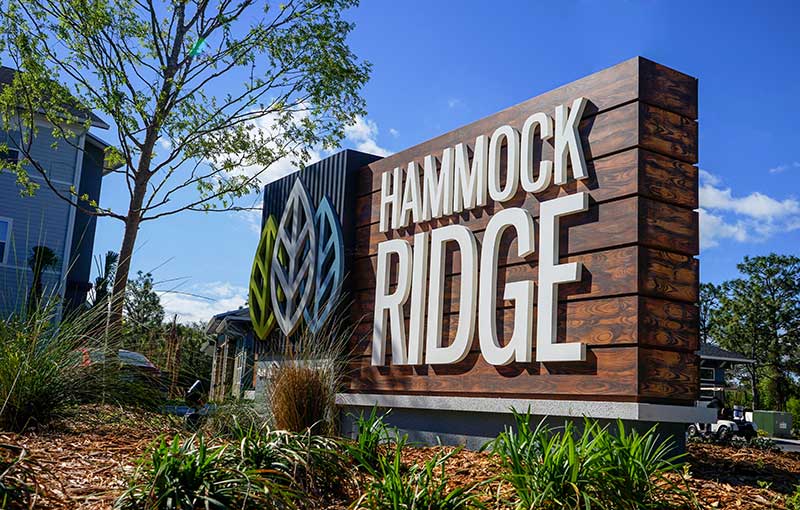 Passionate About Signs
Everyone has their own unique passion. You're passionate about providing the best multi-family living experience and we're passionate about being the best sign company there is.
We understand the multi-family dwelling industry and the specific challenges faced when marketing new projects, rebranded buildings, and other initiatives.
Every project has a dedicated team of experts working together to find personalized solutions to complex marketing challenges. Our designers, production staff, installers, and account managers all pour their passion into every project they touch.
A well-designed sign can capture the imagination of a viewer or inspire people on a personal level. Since we design signs for multi-family dwellings – apartment signs, property signs, property management signs, and community monument signs – we understand that our signs help people find more than just a place to live. We are helping to advertise homes where people can put down roots and grow their lives.
Why are we passionate about signs? To us, a sign is more than just a piece of a marketing plan. A sign is an invitation to take the next big step in life and discover a place people will be proud to call home.
Our Process
STEP ONE
PROPERTY SURVEY
Within one week of making a connection, we survey the property to begin planning. Our nationwide network of professionals makes this possible. We also promise to complete take-off within 5 days from receiving plans. You will see that our level of service matches and exceeds local sign companies.
STEP TWO
CREATIVE DESIGN
Our in-house designers begin work on creative concepts with a commitment to provide you with ideas inside of a set schedule. Design concepts are delivered in 3 to 5 days and revisions are returned with urgency. There's no guesswork or stress; just clear deadlines and expectations that you can count on.
STEP THREE
PERMITTING
Oakhurst Signs manages permitting submissions for your signage to ensure accuracy and timeliness on signage installations. Our dedicated permitting team performs code checks during the design and approval stages, coordinates engineering and obtaining all necessary signatures, submittal and tracking of the permit throughout the many stages at the municipal offices from approval to final inspections…nationwide!
STEP FOUR
MANUFACTURING
Our in-house manufacturing capabilities allow us to be agile and responsive as the process moves ahead. Once a project is approved and permits are granted, we begin manufacturing immediately to ensure timely delivery and installation. Whenever possible, manufacturing processes will be customized to allow for faster delivery of essential signage.
STEP FIVE
DELIVERY/INSTALLATION
Completed products are inventoried and shipped out promptly after manufacturing is completed. Our production coordination team will coordinate with you every step of the way and will provide schedules for delivery and installation. Once a project is installed our crew will perform their own internal inspection of the finished work followed by a walk through with your on-site contact to ensure quality of install and placement.